It's been a long day for quite a few people in this town.
Today is the 100th day of the indigenous land rights protest site on Katagelan Blvd. Over the last three months and change, a lovely little village developed on the sidewalk and part of the wide boulevard, led mainly by Panai, Nabu and Mayao. A long, orderly row of tents grew on the sidewalk, with larger pavilions for gatherings, a kitchen with a stove and tables, shelves of food, books and music, and all decorated with aboriginal themed art. Towers of bamboo adorned the space, and the Sun Moon Lake tribe donated two lovely wooden canoes. Educational talks and symposia were held, as well as a wide variety of musical performances. Panai even recorded a very nice album there, with my friend and fellow musician David Chen contributing his guitar skills to the mix.
I've been spending a bit of time there as well, whenever I get some time…sometimes talking with people, sometimes helping out with this or that, and sometimes just sitting quietly. It's been a quiet, friendly space when I needed it over the past few months, and I've learned a bit about a few things and made a few new friends there. I showed my friend and old classmate DJ Hatfield around it just yesterday, which was great because he's been spending his summers in Dulan for the last few years, has learned the Amis language, and is well-liked among the people there.
Today I was planning to go over to spend Day 100 at the village and see how they were dealing with the record downpour that was causing all kinds of flooding in northern Taiwan, but before I'd departed work, a terse Facebook alert from Mayao appeared on my screen: "They're tearing it all down." Another friend's live feed showed hundreds of police officers swarming the village and beginning to tear things down. Mayao and Banai were overcome by dozens of officers, and Nabu wheeled away in his wheelchair (he has difficulty walking). Mayao just had cataract surgery; police attacks were probably not what the doctor ordered.
When I rushed out of my office to walk over to Katagelan, the skies were dumping rain at an alarming rate. Even though I had my big-ass umbrella, my shoes and pants were soaked instantly. The news was full of reports of flash flooding all around the city. Just how, I wondered, could the police spare hundreds of officers to dismantle a completely peaceful protest site under such circumstances?
But it was true, I saw when arrived. Literally hundreds of officers swarmed over the site. All the protesters had been physically removed, and heavy cranes were violently tearing down all the tents, towers, shelters…everything. All of the kitchen supplies, the artwork, the furniture, even a large portrait of President Tsai was dumped into a heap on the pavement, crushed, shoveled with a loader into the back of a large truck and hauled away as we watched helplessly from behind the barriers and police, who had set up a large megaphone system that was spewing patent nonsense like "There is low visibility due to the rain! For your safety, please leave the area!" The atmosphere felt like it was straight out of mainland China. The most bizarre thing was the presence of Environmental Protection Department officials. In a nation notorious for morally bankrupt factories spewing hazardous pollution into the air and the rivers, the EPA always claims that it is understaffed, underfunded and unable to monitor these blatant breaches of law. Yet they apparently have plenty of time and personnel to dismantle a peaceful protest that is completely green and sustainable.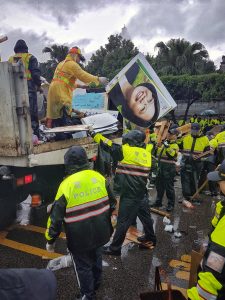 Mayao was standing on a stool continuing his live broadcast as the destruction continued, while Panai and Nabu sat forlornly on the corner in front of the Taipei Guesthouse gate. I circled around the scene, switching between my Leica M6 and my phone depending on the circumstances. Fortunately the Samsung S7 I use is water resistant, and the Leica is virtually indestructible. I missed my Sony, but it's in the shop yet again being fixed, so I had to make due with what I had.
Just about everything had been hauled away when a New Power Party legislator showed up, followed by another one I recognized, Freddy Lim. By that point the destruction of the village had been going on for several hours, and I wondered what took them so damn long to get there. Still, nobody from either the DPP nor the KMT showed up at all, so there's that. The legislators had a furious chat with the police on the site, who refused to yield, so the legislators held a little press conference in which they criticized the police's actions. I guess that's all they could do.
As darkness fell, the police removed the barriers and opened the street up to traffic again. The rain, which had lessened around sunset, returned as the cops formed lines around the area. Some of them surrounded Panai and Nabu, still in his wheelchair, and shouted insults, not letting them move, and when they did, following them around. The police chief came over and started issuing orders: "If they set up any tents, take them down!" he shouted. "No cars are allowed to stop in this area, period!" It was as if he had decided he was a mini legislature of his own, spewing out laws at a whim. I thought of all the people in the city in need of police assistance, wondering where all the cops had gone. When some people brought over folding chairs for some of the older protesters, who were huddled under umbrellas on the wet sidewalk, the police started pointing and shouting, saying "Those aren't allowed! Those are illegal!"
It was past dinner time, and I hadn't eaten since breakfast. I'd also run out of film and my phone was dying, so I left the site in the evening, soaked and tired, but still in better shape than most of the protesters, who are still, as far as I know, huddled on that corner under the pouring rain, surrounded by shouting, sneering police.
I hope they can bounce back from this. I don't know if Day 100 was their target day to remove the protest site once and for all, or if they decided to take advantage of the extreme weather to do it. In either case, I have to say it was an extremely shitty thing to do. I've been disappointed that the government has managed to ignore this issue this long, but going to these lengths smacks of tactics this administration really should know better than to engage in.
EDIT: The police apparently executed their own law and bodily forced people to leave the area early Saturday morning, shouting "We're doing this for your protection!" Not a single peep from the presidential office.