I wasn't in the best of moods when we left the hotel this morning. Oh, the weather was fine, and Beatriz and hubby had picked out a place for us to visit for the day, but something was just off, and I was irritable and moody…at least more than I usually am. Which is saying  something.
We got onto the big double-decker train that would end up in Paris in six hours, and got off at Girona, north of Barcelona and near the French border. The pleasant square in front of the station cheered me up a bit, and my mood improved more when we came across an entire construction wall covered with the characters from my namesake and favorite childhood cartoon, Top Cat. I took a selfie with the original TC and kept walking.
I was making a silly video on a bridge when I spotted someone who almost certainly another street photographer, from the way he held his small Olympus EM-10 on its wrist strap. He came over and asked me if I was me, which, it turns out, I was. He turned out to be one of my Facebook photographer friends, Jordi Simon. He had somehow recognized me, and we chatted a bit, mostly with me speaking in Chinese to Beatriz, who translated to Spanish for Jordi, and vice versa. It was a nice coincidence.
We proceeded into town and I spotted more street photographers. One guy had stationed himself at the foot of the red bridge with a long lens, which I thought strange. Another was taking mirror-in-windowshop-reflection shots a la Friedlander, and yet another was stalking a tall clown downtown.
What is going on? I thought to myself. Am I about to see a bunch of Girona shots in the HCSP queue? Sure, the light was nice, but nice light is found in many places, and is often a trap in any case.
We kept walking, and I turned a corner to find none other than Gueorgui Pinkhassov sitting outside a cafe, in the midst of ordering a creme brûlée. He and I have had conversations on Facebook before, but we'd never met in person, so this was an extraordinary coincidence. It also explained the plethora of SP activity in the town that day. We chatted for a bit about various things before I let him get back to the workshop he was teaching; at least some of his students were also seated around the table. I told him that I'd originally planned to take his workshop in Tokyo a while ago, but had submitted too late. He invited me to sit in on this one, but I thanked him and declined, feeling that it wouldn't be fair to the students who actually got their submissions in on time and paid a great deal of time and effort to be there.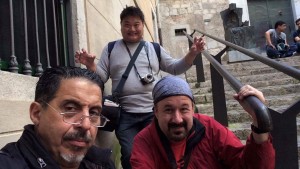 We continued walking up the hill to the obligatory cathedral, and then back down some more alleys to find a restaurant with extremely slow service, so slow that we had to rush back to the station to catch our train back to Barcelona. We could have taken our time as the train was very late, and this being Spain I had to piss like a racehorse once on the train due to the lack of public facilities.
The reason we had to be back in town was that we had tickets at the Palau de la Música Catalana, a lovely old concert hall, to see an organ concert played to the 1926 silent film Faust. The screen was a bit small, but the magnificence of the theater's interior and the wonderful organ performance made up for it. After the show, we tried to take a look at the third floor balcony, but appparently it's a secret, so don't tell anyone.
After the show we walked over to the 4cats restaurant, where Picasso hung out as a moody teen, for a delicious dinner that was a bit more expensive than we could really afford. The servers were very good, and there was a mediocre live band that consisted of piano, double bass and a singer. Carlos and I both guessed that they were moonlighting students.