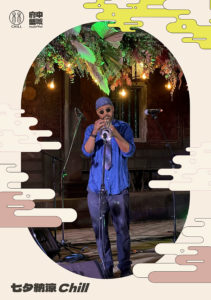 Things are getting busy again, on several levels. Despite all the Twitter-based hullabaloo about Pelosi's upcoming visit to Taiwan (most of which can't even be called journalism and completely misses the point), life goes on as normal here as ever.
Last week the Ramblers played a three-day-long gig at the Lin Family Gardens in Banqiao, in a courtyard out in front of one of the old halls. My instrument cart no doubt scuffed several of the centuries-old stone door frames on my way in, but I've always liked the place so it was nice to play there despite the oppressive heat. The staff were nice, providing us with tasty bento dinners, souvenir photos of us playing in cute frames, and even umbrellas when a heavy downpour followed our second performance. Thumper and Red Man missed the first show, so Sylvain filled in. Our old friend Chalaw worked wonders at the soundboard to make us sound good, and despite not having played in a good while we managed to put out three solid shows in three days. In between the brutally hot soundchecks and the shows later in the evening I would walk around the neighborhood exploring the various alleys and bridges, the markets and temples. Police on scooters zoomed around checking people's IDs. After the shows it was cool to be able to wander the complex at night, when it's usually closed, imagining all the shenanigans and goings-on that happened there back in the days when it was an oasis of culture and taste amid empty fields and swamps. Now it's an oasis of culture and taste amid apartment buildings and shops of every description.
On the morning after the last show, I met up with Chenbl  and his parents at the Taipei high-speed rail station; we had breakfast on the bullet train south, arriving in Taichung in short order. Chenbl's parents were staying at The Lin Hotel, a ritzy place near the National Theater, whereas we were staying at a place called simply The Place in another part of town. The neighborhood is crammed full of  swank high-rises now, totally unlike when the Ramblers performed at Tiger City so many years ago, the bitterly cold wind blowing across empty lots as we played. We took a train to the impressive Nantian Temple, which features a giant statue on top, and then a bus to the Second Market, a hexagonal affair, where we had delicious noodles for lunch.
We then strolled through the city through the artsy West District. It's been too long since I visited Taichung; I miss it. Chenbl's father commented that Taichung seems to have more potential these days. While Taipei's been content to rest on its laurels as the capital, Taichung these days seems more about exploration and experimentation. It's also more physically spread out, which makes a second metro line a must  if the city's going to continue developing.  Residents apparently don't even have to pay for bus trips under 10 kilometers. We walked to the Place where Chenbl and I were staying, put some stuff away, and headed out again when what had seemed like imminent rain did not manifest.
As a lot of walking was going on, we all packed light, though Chenbl's father insisted on carrying several heavy bottles of water in his backpack. I only brought one bag as it was just one night and all I needed to bring besides what I usually have on me was an extra shirt. After going through a series of cheap bags whose zippers would break almost immediately, not to mention a Domke that eventually disintegrated, and on the recommendation of some local photographer friends as well as the badge of approval of DPreviews' Chris Nichols and Big Head Taco, I recently spent bag to get bag from Wotancraft, a local company, and so far I like it a lot. It looks heavy but is actually quite light and comfortable.
Sunset was seen from the odd and interesting roof of the National Theater, which reminded me of that of the Casa Mia apartment building in Barcelona. Chenbl's parents were fine dining at The Lin's popular restaurant, so Chenbl and I headed over to the food court at Tiger City for some excellent beef rice bowls.
On Monday morning we took a bus over to The Lin, and then walked to Taichung City Hall, a trim and efficient pair of buildings linked up in the middle. We browsed the exhibition and then took a bus at one of the failed BRT "stations" to another part of town to look at Literature Museum which features a huge old tree in the courtyard. As we were wondering how old said tree was, rain began pouring down. Chenbl's mother was the only one of us with the sense to bring a real umbrella; she took refuge in a small pavilion while Chenbl's father and I moved to a tin structure where we could feel the rain pounding on the roof reverberating throughout the entire structure. Chenbl had found a handy arcade. There we all waited for the rain to ease, and it did after about an hour. Chenbl's father is always full of interesting stories and advice, so the time went by quickly. We then walked to the old martial arts hall, and then took a bus back to the train station, where we spent the rest of the afternoon having ice cream treats and dinner at the Miyahara Confectionery, previously an Optometrist's office but now more like a rebranded Harry Potter exhibition with cookies. At one point Chenbl and I popped out to get some of the obligatory suncakes. Chenbl refused to be seen carrying the other store's suncakes into the confectionery, as apparently there's some rivalry going on there, so he made me carry them instead as I apparently DNGAF about such things.
Chenbl's parents were itching to get back home, so we took an early train from the huge new station, dwarfing the stately old one next to it, back to the high speed rail station, and then back to Taipei and home. It was good to get out of town for a bit; we need to do it more often. Chenbl and I are scheduled to get our second booster next week, and case numbers are dropping steadily, though I still suspect that when the new variants might arrest that trend, but most people seem to still be wearing masks (despite all the white dudes on those sites howling in protest all day), so perhaps we can still get through all of this ok.