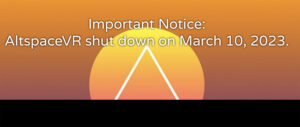 The world was about to end, and here we were.
I was chatting with my friend Cassius, a music producer in the U.S. whom I'd met 41 months earlier according to the window above his head, beyond which I could see the river and mountains that surrounded the campfire, set on a grassy cliff on a bright sunny day. I'd met many of the people I'd come to call friends there, including documentary photographer Abdul Aziz and saxophonist Steven Strouble, both of whom introduced me to even more interesting places, galleries and studios where creative people could gather and talk about all the art and music being created and on display around them. So I figured the campfire would be a good place to watch the world end, as that was where I'd first experienced Altspace, a virtual reality social world that had been bought by Microsoft in 2017, saving it from dissolution. 
Now the company had decided to condemn the community to that very fate, on March 10th, 2023. We'd been told 10 p.m. would be the deadline, but then it was announced that everything would end at 2 a.m.
Naturally, everyone had showed up to watch, catch up, and just be present for what we all felt was the premature conclusion of a historic accomplishment in online social interaction. There are other VR social spaces now, such as VRChat, Horizon, Spatial, etc., but Altspace had that peculiar blend of just enough freedom combined with decent moderation and connection tools that let community events blossom. When I first encountered it in the late teens, using what now seems like a laughably primitive Samsung GearVR headset, Altspace only allowed for robots and basic Lego people-esque avatars, but these were then replaced with much more expressive representations that were cartoonish enough to avoid the uncanny valley while still providing a wide choice of attire and features that static screenshots mostly fail to convey. Mouths moved with our speech, and our eyes flicked and blinked in a realistic fashion based on the algorithm some coder at Microsoft probably worked for months perfecting. Now, of course, headsets are beginning to offer face and eye tracking to increase immersion and expressiveness in avatars. 
Alas, that was the last significant update, and as Microsoft shifted its attention elsewhere and adopted a more hands-off approach, moderators were withdrawn, leaving us more or less to our own devices. Thankfully the communities in which I was active were largely self-moderating. While I often felt uneasy in other spaces, always on alert against being surrounded by mocking children or toxic "adults", Altspace would show me where my friends were, often all in the same space, and off I'd go to hang out and chat and learn and just feel a part of a supportive group of cool people. It was enormously satisfying to just kick back and listen, talking sometimes but often just chilling, drifting from conversation to conversation, amid a group of talented, interested, intelligent and empathetic individuals with all kinds of backgrounds and origin stories. 
It wasn't always wonderful, of course. People still engaged in the inevitable petty beefs with the accompanying drama. Some people would get drunk and/or high during events such as the Freestyle Power Hour, where anyone could go up to the mic and rap or play or whatever they wanted. That venue was in a basement space at the opposite end of a nighttime alley from the shell of a white 1970's Cadillac coupe nestled behind a chain link fence. I played a few times there myself, accompanying others to the netlagged beats, and while there were times the content of certain inebriated freestyling ventured into questionable waters, those in attendance were also free to call others out on their BS, and we could all talk about it. In the end, everything was cool.
Other spaces I loved: The Harlem Film House, a complex located in the middle of a street of brownstones. It featured not only a full theater, lobby and immense gallery, but also, if you knew which black wall to walk through, the Boom Boom Room, a golden, glimmering 30-era Art Deco space with piano and drums on a small stage, stately cigar bots, and chicken and waffles served at every booth. World-builder Kipp York made other vast, exotic space-based worlds that gave swank space-age vibes, planetoids floating majestically overhead. Someone made a virtual Waffle House, which had been the scene of riotously hilarious exchanges when everyone got together there. Other people ran talk shows and standup comedy events with lavishly appointed sets and audience spaces. Much more serene but no less delightful was a comfy Scandinavian house rendered in exquisite detail, its muted white and gray decor accented by the pattering of rain outside, perfect for just sitting alone and contemplating. 
I'd visited my own Altspace home, a bright loft apartment overlooking an oceanfront city, one last time earlier that final day to save some shots to remember it by after it too was gone. I'd hung up my photos there, printed large on the walls so that others could see my work properly, the only place in the world where that was possible outside of expensive and time- and space-limited gallery shows. 
After the world failed to end at 10, I traveled to one of the many apocalypse-themed events, most of them crowded to capacity. I found myself in a field of waving grass filled with sound of crickets and birds, the other people surrounded by auras of various colors. As the clock ticked down, the host warned that he would be muting everyone so they could meditate up until the end. "Whatever you have to say, say it now," he said. 
I decided there would be more than enough silence after tonight. I tried to get back into the campfire, but it was full, and in any case I didn't feel like ending the world in the midday sun, so I went instead to a dance club where many of my other friends had gathered for the final moments. It was a boisterous affair. I was glad to see my old friends Ty, Key, Moshef, Sasha, Blue, and Micah, all familiar faces, voices and attire, from Moshef's wool cap and dreds and Key's electric turquoise hoodie to Micah's usual orange patterned shirt and trilby hat, and I was just enjoying being in their company, chatting and pretending that the world wasn't about to end. The DJ played "It's So Hard to Say Goodbye to Yesterday" as the clock ticked down to the last few minutes; people were trading contact information to make sure we could find each other again.
Two o'clock struck, and…we were still there. "Are things slowing down?" Micah asked. I thought the frame rate might be dropping, but I couldn't say for sure. Three minutes passed, then four. The DJ had launched another playlist. The walls and ceiling flickered briefly. We kept chatting.
Then, at precisely 2:07, everyone stopped moving, and silence fell as the music abruptly ceased. I found myself looking around a room full of mannequins. Several seconds later, the room vanished, replaced by a text box floating in an empty space, reading: "Connecting, first attempt of 10." Nine attempts later, the program closed. Around the real, actual world, hundreds, perhaps thousands of actual people took off their headsets, severed from their friends, their spaces, their community. 
It was over.
I put my headset away and went to bed, feeling empty but thankful that I'd at least been there until the end. The next morning I got up looking forward to joining my friends in Altspace before remembering that it was gone. The people I knew were out there, but scattered among other platforms, spaces that didn't feel as safe or inclusive or welcoming. We might find that again, but the future of VR is perennially in doubt.
Why is that, though? Why has this form of communication always been so ridiculed? In the early days the hardware was cumbersome and the experiences less than pleasant, but those days are long gone for most purposes. The mood today for VR enthusiasts feels like being laughed at for being a nerd, being into video games and anime back in the day…now that those things are cool and mainstream, VR has taken their place. In any case, the objection would seem to be the same: "You are rejecting our presence, taking yourself out of our realm of control and interacting with people other than us, people you have chosen over us, people we can't see, and that makes us hurt and angry." People who want to put the pandemic behind them might have exacerbated that sentiment, VR perhaps coming to represent another vestige of those years of masks and social distancing. Or maybe they're just still mad at those kids who elected to play D&D instead of playing with them. And as more public spaces disappear and more people move from neighborhoods designed for personal interaction to the isolation of gated communities and high-rises, I feel while text-based social media, which has proven time and again to be simply disastrous when it comes to fulfilling our social needs, is not the answer, VR very well could be.
There's a simple reason for this: You don't tend to find the mass hysteria encouraged by enraged text-based social media in VR; by its very nature, conversations only happen among limited groups of people, just like real life. Unlike in the physical world, however, nobody is on their phones; if you're there, you're engaged. If someone is bent on making trouble, things go pretty much as they do in "meatspace" minus the possibility of physical violence. And that aspect is huge – the feeling of physical presence without the threat of physical danger, something that most articles about VR completely ignore in favor of shallow discussions about resolution and polygons, but it creates the potential for more honest and compelling interaction in some ways even than physical reality, where the omnipresent specter of potential physical harm, ingrained into us over thousands of years, can cast an ugly shadow over any interaction. 
That said, while people unfamiliar with virtual reality may fear that it will replace physical reality, its true value lies in overcoming the limits of text-based interaction. VR interaction is miles away from the torrent of rage-inducing proclamations that make up Twitter/Facebook/etc. Think about it: When you see a problematic tweet, the tendency is to respond on the same impersonal level to those lines of text. If you're talking with someone standing in front of you who wants to communicate basically the same thing, 1) they most likely won't state it in such absolutist terms but more in the context of the conversation, and 2) your reaction is most likely also going to be different, couched in conversational terms designed to communicate with that person rather than respond merely to the statement. In other words, VR interaction represents actual people communicating with each other on a level that text-based platforms do not and cannot match. 
Unfortunately, this massive benefit most likely is what is turning off major CEOs throughout the tech industry, as the inducement of rage, i.e. what the social media companies deem "engagement" is what drives their business model; the bigwigs have decided that VR is not in their best interest. After all, their "enshittification" model has always been to dangle the tantalizing idea of meaningful interaction as bait to get us into a space and then whip it away so we can buy their shit instead. While you can see how they have been trying to use VR to that end, it doesn't seem to be working as well as they'd predicted; people are insisting on being people with each other, not text-producing rage bots, and where's the profit in that?
In the days after Altspace ended, I sought out other members of our now-displaced community elsewhere. Replicas of the campfire had been created in the other worlds, some better than others. Horizon's limited world-building tools produced the poorest results, but the VRChat version was almost identical, down to each tree and log. 
Both were empty.
I traveled to a mountain retreat in Spatial to find Kipp sitting alone on a couch watching a movie on a giant screen that kept glitching its way up the mountain until he had to go fetch it back. Blue came in and we chatted a bit, but it wasn't the same. I came across Cassius, full of his usual grand plans, in a club environment he'd created in Horizon, but the vibe was different; our sense of community had become a sense of exile. I joined some world tours in VRChat designed especially for former Altspacers, but the avatars there are either entirely unrealistic or so realistic that the lack of animation is just creepy, and people change their avatars so frequently there that there's no consistent look to anyone, resulting in a reduced sense of presence. While Horizon is making great strides with their avatars, the worlds being created there are so far quite basic, and of course Meta's censorship practices are problematic. 
So far no one has been able to match what Altspace had done, and now that Altspace is gone, it's even more likely that they won't even try.
I'm not arguing that Altspace was the pinnacle of VR social interaction; obviously we can and should do better. It just represented not only a special time and place, but a vibe that I'll always remember fondly, a place where a group of people could come together and communicate, create and dream. What's next should be up to us, but I fear that a future where are able to interact with each other online as people rather than through bursts of impersonal/inflammatory texts will only be fought tooth and nail by corporations that are only able to see value in our purchasing ability rather than our humanity.  
My cynicism could be misplaced, though. I hope it is, and that, in the end, everything will once again be cool.