Summer is making a grudging entrance, with sporadic heat and rain typical of spring here. I recently bit the bullet and bought a new air conditioning system, one that is not only far quieter and more efficient than my last unit (which, following some negotiation, came with the apartment when I bought it 18 years ago), but also includes a heating function so I don't have to rely on a leaky oil heater in the winter. Looking forward to having a nice toasty warm apartment on those cold rainy days. The government also provides subsidies for upgrading to more efficient units, which takes some of the punch out of the (still substantial) price tag, which includes not only the units but the installation. The workmen who installed the unit were efficient and professional, and my place only smelled like betelnut for a few days afterward.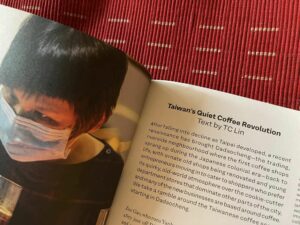 The article I recently wrote and photographed for Standart Magazine concerning Taiwan's coffee culture has been published. They got in touch with me at kind of the last minute, so for a couple of weeks I spent every day going to various cafes, roasters, bean sellers, etc., talking to them and taking photos and generally learning a lot about the development of coffee in Taiwan and how it seems to parallel our democratic development, which makes sense if you consider the era of relative increase in democratic discourse that followed the advent of coffeehouses in other places. Chenbl and I traveled down to Taichung to visit a coffee expert, then renting a car to drive up into the mountains to visit a coffee farm, which was a nice change of pace. The staff at Standart, which is a European publication, were great to work with, and it was nice to have a "mission" so to speak. You can see some of the work I made during that time here.
In other news, Maciej Dakowicz recently held one of his photography workshops in Taipei. Maciej and I first met at a Burn My Eye exhibition opening at a festival in London back in 2012, and we've kept in touch over the years. He messaged me about shooting in Taipei as the last time he'd been here was way back in 2003; obviously a lot has changed, and I gave him a few suggestions. When the group arrived Chenbl and I took them over to Snake Alley for dinner at Wang's Broth, and I met up with them on their subsequent excursions in Taipei and Keelung. As I observed their process, it occurred to me that how I go about engaging in my photography is quite different from most people. Then again, a workshop is not most people's normal interaction with photography; it is deliberately more intense and action-packed, with set goals and the pressure of producing a certain amount of work. Still, they seemed surprised that I pretty much always have a camera on my shoulder and another in my bag, no matter what I'm doing. For me, unless I'm on assignment, I just go about my life and photos just kind of happen. Tagging along with their group, I felt a bit like a slacker, only taking photos I happened to see while they strode purposefully down the street, cameras held at the ready in front of them, their eager gaze hunting for targets with each step. The group certainly had talent; Maciej had showed me their Instagram feeds beforehand and they'd made some very nice work. Most, it seemed, were returning students, and after witnessing the ease and synergy in the group I could understand why.
After a week, though, the workshop was over, and they had to leave. It was nice getting to know them, and I always enjoy seeing my home through the fresh eyes of visitors. Some of the students said I should hold more international photography workshops here…it's worth considering.
In other other news, the Ramblers played a gig last weekend at the Spring Wave music festival at a "glamping" complex in Taichung. Glamping is apparently short for glamorous camping, with luxury tents and food trucks and nice showers; the adjacent fields were covered with individual tents, and rows of food stalls lines the path between the four stages. The audience was mostly fairly affluent young people, and our show went pretty well. Little Scarlett collected quite a few interesting rocks. We've also been working on our latest album, recording at Cristina and Zach's house before proceeding to an actual studio next week. Last weekend I recorded four different songs on four different instruments: trumpet, euphonium, tuba and bass; it was a very long weekend, needless to say. But the songs David's chosen for this album are real top-tapping earworms; going back to our roots, so to speak. It should be a good one.