Thursday night was spent getting all my stuff I needed for our series of weekend gigs at the folk music festival in Hengchun, the southernmost town in Taiwan, into either my instrument cases or a small backpack. In the end I managed, but it was a close thing. It had been a while since I'd taken such a trip. Indeed, it had been a full cycle, 12 years since we last played there, in 2010, which was also the Year of the Tiger. Tiger to Tiger, as it were.
I lugged the whole kit to work on Friday morning, nearly forgetting to print out the set lists before heading over to the train station to meet up with the others on the train. Electronic tickets make meeting on the train doable, avoiding the anxiety produced when someone or other is late. Thumper was missing from our ranks this time, alas, due to family issues. Zach was filling in as best as he could amid all his other duties, including being a parent as he and Cristina were bringing little Miss Scarlett Danger with them, but Thumper's reassuring rhythmic sense would no doubt be missed.
I snagged a window seat and let my mind unwind as we slipped out of the basin and away south, away from offices, classes and the daily grinds. By the time we hit Kaohsiung an hour and a half later I was in a much more appropriate mood, but the longest part of the journey remained, as there is, alas, no railway to Hengchun; it's a glaring example of the lack of resources devoted to the southern part of the country. Politicians haggle over whether we need another metro line out to Keelung, but Hengchun remains accessible only by a long, two-hour traffic-ridden coastal road to this day. Fortunately the organizers had sent two nicely appointed vans to take us down, and even though conversation made the ride go by quickly, it was night by the time we pulled up to our hostel. Or rather, what we thought was our hostel. It turned out there were two similar ones, so we got back in and drove down the road a bit to the second one, the Lovestar Lakeside Hotel, which, unlike the first one, is not actually on the lake (thus the confusion). As David and I walked into the lobby, a man in glasses and a green shirt rushed out from behind the front desk, exclaiming, "It's you!"
We looked at each other, confused. "You're TC Lin!" he gushed. "I've seen all your videos and interviews!" Then he asked me to sign his shirt. It was all a bit discombobulating, but he was very nice. In fact the whole staff there were very nice, and got us all sorted into our rooms while we waited for some Uber Eats dinner to enjoy before heading over to the event for our late-night soundcheck. The West Gate square, where we'd played 12 years before, was filled with a huge stage and a lot of people. A classical violinist was doing his soundcheck, and groups of elderly women with traditional instruments sat in groups behind the stage, chatting. Out along the square some interesting cafes and art stands made the place seem quite different than it had on our last visit. The sound staff were professional and did a great job.
Our first show was late Saturday night, so we basically had all day to ourselves. After a nice breakfast of Eggs Benedict and coffee provided by the hotel, most of the others headed down to the beach, but I headed out to walk around Hengchun. I'd wanted to take a bus but a cabbie offered to take me for NT$50 so I hopped in. He dropped me off at the south gate.
Hengchun's old city wall is remarkably well preserved; most cities tore theirs down long ago, but for whatever reason Hengchun kept most of its wall and all of its gates. Unsure of where exactly to go, I chatted with a restaurant owner by the gate as he played with a hefty grey cat sitting at the door. "Is that an M?" he asked, spotting my camera. It turns out he uses an M4 and does a bit of photography himself. We exchanged IGs and he suggested following the wall. This I did, and I was surprised to find streets lined with hip and trendy cafes, art spaces and restaurants, tourists and other young people walking around snapping shots and staring at laptops. Was it usually like this? I had no idea.
I continued to walk towards the West Gate and then through the town. Once I left the trendy old street area things got pretty quiet. I somehow wandered into a construction zone and then found myself on a school campus without knowing how. Lunch was salmon quiche and coffee at a cat-themed cafe that, like many of the places I saw, I can't find on Google Maps because it's so new. "Why have that?" Chenbl complained when I told him about it on the phone. "You should be having local delicacies!" He was right; I was just enticed by the cats.
A bus took me back to the hotel, where I rested up before getting ready for the night's show. Standby was 9:30 as we were the last act, but we went over earlier to eat first. When we got there, we found that apparently the entire population of the southern peninsula had arrived; the square was packed with people. One of the reasons for this was the fact that the Taipei Philharmonic Orchestra was playing. Police led various officials through the crowd to the stage to give speeches. We found some of our friends from Taitung and Dulan who had set up stands nearby. I tried to get up on the West Gate but apparently there was a musical group up there as well, so I wandered on the periphery of the crowd instead.
Our show, when we finally got on stage, went well. Perhaps too well, as shortly after we'd started one audience member, a tall man in light blue shorts, sauntered up on stage, first filming us before being escorted back down, then coming up to "sing" before being escorted back down, and then actually taking an empty CD cover David had placed there and setting down a NT$1000 note on the stand to pay for it, before being escorted back down. The crowd apparently knew him and roared their approval whenever he came up; we just smiled and kept playing. Later the man's friend, who had been trying to keep him in check the whole time, apologized, saying that, even though he was quite drunk at the time, he was pretty much like that when he was sober too.
After the show we got in the vans and, still high from the show, drove out through the west gate, which was much more thrilling than it sounds. It felt like a magic portal.
Our show on Sunday afternoon was listed as a "workshop" rather than a show, but the organizers had planned for it to be simply another show on the big stage. We realized, however, that it would be quite cool if we went down off the stage and actually had more interaction with the crowd, explaining how to play some of our more interesting instruments, the background of our music, etc. One older fellow claimed the washtub, so I quickly taught him how to play it, and a young woman did a great job playing the washboard. The crowd loved it, as did we; it was a great success. In fact the whole event has evolved beyond recognition of the last 12 years in fact, and it bodes well for Hengchun's cultural development. After the show I got some local delicacies, including some delicious crispy basil danbing and green bean ice. I also had some nice ice cream and coffee from a lovely place on the square, located in a renovated building, called Spoon in Pocket.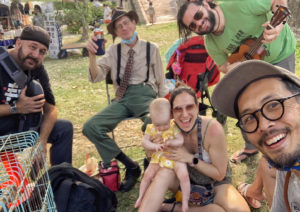 Too soon it was time to go; we piled into the vans and headed back up the coast. I put some tunes on my portable speaker and hung it from the window to provide a soundtrack for the journey through the heavy traffic. Fortunately we made it to Zuoying Station with enough time to get some dinner; I picked up a Mos Burger meal and headed down to the platforms to find our High Speed Steed awaiting, but none of the others had shown up. I got on the nearly empty train wondering if I'd got the wrong one, but eventually everyone showed up and we were speeding north once again. Slim and I caught a cab; when the cabbie asked if he could take the elevated expressway we agreed, happy to see the lights of the basin.
If I'd had my druthers, I wouldn't have minded spending a week or two in Hengchun, getting to know the place a bit better. It seems like more young people are moving back there and opening new businesses; there's a real feeling of potential. It will be interesting to see where it goes.
Now all they need is a railway link.