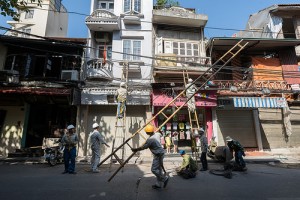 Hanoi seems to be in the middle of replacing the entirety of its considerable airborne wiring. Every few streets we saw a bevy of repairmen balancing precariously on the black masses of wiring in between poles.
We got a rather later start than we'd intended to, but we were out on the streets by 8 a.m., after a mediocre breakfast downstairs. At first we tried to follow the purple path suggested by the tourist map, but other streets were too tempting. We found one of the old city gates, and some interesting markets once we left the tourist district. Chenbl spent a good 15 minutes chasing chickens in an alley while I photographed scooters piled high with plastic bottles edging through the narrow entrance. Walking north, we passed underneath the railway and, quite thirsty, looked for something to drink. When we approached a coconut stand as we'd done last night quite easily, the woman selling the coconuts demanded that we pay first. This was a bad sign, and we should have left then and there, but we were thirsty. Of course once she had our money, she pulled out her very worst coconut, the one she'd been saving for fools just as us, with a moldy black exterior and exactly one metric mouthful of juice. We should have made a bigger fuss than we did, but again, we were thirsty, and we had no idea that a Lotteria was just around the corner. Heated up with anger rather than cooled down by the coconut juice, we sat and drank lemon juice to cool off.
We spotted another lake nearby, Truc Bach lake, so we walked over to check it out. It turned out to be uninteresting, but the trip did serve one purpose: Chenbl finally found a way to cut his fingernails: He approached a trio of Vietnamese fellows on the bank of the lake and asked if he could borrow their nail clippers. They said ok, Chenbl's nails were clipped, and we were on our merry way around the small promontory, separated from land by a truly awful canal.
We were wandering around without purpose, and this suited me fine. We passed by the luxurious Army Hotel, with bored Army guards outside, and walked down broad streets to a long park where I nearly fell on my face when I tripped on a fractured curb. I fell on Chenbl instead, who had the presence of mind not to fall over himself.
We walked around a round building in the middle of a roundabout that turned out to be Old, and then over to where the train tracks crossed over the street, following the tracks until we were hungry enough for lunch of beef pho sitting on the street. I haven't had any pho here so far that hasn't been  delicious.
We walked south, out of the tourist district completely this time, and our exodus engendered a sense of relief. People seemed like regular people, touts weren't constantly approaching me, there were actual sidewalks and street crossings, and prices were half of what they were in the old district. It was like returning to civilization. We even saw a traffic accident where the drivers got out, glared at each other, got back into their cars and drove off, both completely ignoring the traffic cop at the intersection, who ignored them right back.
Further south, we came upon another lake, this one looking man-made, probably to cool off the neighborhood. After sitting and resting while a small boy slid down the stairs over and over again, we decided to walk west. Inside a nearby alley, an old barber was striking camp in the light of the sunset as a boy threatened me with a tree branch. Both lived just down the alley, near a small temple on the lake.
We walked to the railway tracks, where we were surprised to see far more people camped out on the tracks than we'd expected. I guess it must be cooler, and they all seem to know the train schedule, but it was still a bit unnerving considering how easily trains can slip up on one. We talked with one young bespectacled fellow who enquired about our cameras. I got his flickr handle so I can look at his work.
Continuing through long alleys punctuated with LED signs and little old shops, my spirits lifted even more. This was actual Vietnam, actual Hanoi. People were friendly and open, traffic moved smoothly. We had some delicious dry beef noodles at some random shop patronized by heavy, shirtless men and one very old woman. In the corner by the TV was a large glass bottle of something straight out of Severus Snape's pantry.
We continued up the alley, which turned out to be very, very long, but it was interesting and the most fun we've had in Hanoi so far. We made attempts to chat with various people along the way, some older men smoking water cigars, some women cutting hair, some construction workers eating dinner, etc. We passed empty lots where the houses had been torn down, and eventually ended up on a major road, where we asked directions back to the old district. Everyone we asked said it was too far to walk, but when we pointed out that we had just walked from there, they just shrugged. Crazy foreigners, I guess. What can you do?
As we made our way back towards the hotel, showers of leaves would occasionally float down from the trees. We had some fresh juice at an intersection, but some air conditioning was in order, so we stopped in at a KFC. Chenbl noted that the chicken there was much thinner than it is in Taiwan. The women in front of us were apparently applying for several foreign visas along with their meal, as they had filled out several forms and provided bank statements with phone confirmations. Then every school in the vicinity let out, and the place was suddenly filled with screaming children. This prompted our escape.
Now we're back at the hotel, where the broken fridge has been fixed. In order to compensate for this commendable act, neither the TV nor Internet is working, most likely due to the cutting of a few wrong wires today.