You've probably heard about the Uncanny Valley phenomenon, which describes how people are comfortable with obvious robots and fine with obvious people, but are seriously creeped out by robots who are almost indistinguishable from humans. As I was watching some foreigners interacting with Taiwanese people the other day, I began to wonder if there is a corresponding phenomenon with spoken Chinese (as well as other languages). That is to say, many native Chinese speakers seem to go into a kind of "foreigner mode" when speaking with non-native speakers, dumbing down their grammar and slowing their speed, taking pains to put things as plainly as possible. They may even not realize that they are doing this, or see it as the obvious thing to do in such a situation. When speaking with other native Chinese speakers, a greater fluency occurs, of course. What I'm wondering is if there is a point in between these two states, something neither-here-nor-there, that causes confusion and even discomfort for native Chinese speakers, i.e. an Uncanny Chinese Valley?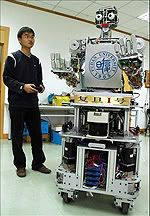 From the Wiki page: "If the entity is 'almost human', then the non-human characteristics will be the ones that stand out, leading to a feeling of "strangeness" in the human viewer. In other words, a robot stuck inside the uncanny valley is no longer being judged by the standards of a robot doing a good job at pretending to be human, but is instead being judged by the standards of a human doing a terrible job at acting like a normal person."
In the Chinese Uncanny Valley, then, at least according to the above theory, the confusion would arise from the native Chinese speaker seeing the other person as either a foreigner doing a good job at pretending to be Chinese ("Oh, your Chinese is so good!"), as opposed to seeing them as a really slow, difficult Chinese person.
I think relatively homogeneous societies where language and ethnicity are closely associated, like many in Asia, are where such a phenomenon would be the most easily spotted. When I'm chatting online or talking on the phone with a native Chinese speaker, there is no hesitation or discomfort, although eventually if we talk long enough it's likely that I will make a mistake that lets them know I'm not a native speaker, but sometimes while talking face-to-face, I occasionally sense a certain amount of confusion in the other person. Most of my Taiwanese friends don't have this problem with me, but when I meet someone new, they usually start out in the default "foreigner mode" and then move into this zone of discomfort, and are either so freaked out they can't deal with me, or they overcome it and things smooth over (my sparkling personality doesn't really help in this regard either, I admit).
I'm not sure how much of this has to do with reconciling an obviously non-ethnically Chinese person speaking the language, and how much it has to do with the level of Chinese that is being used, but it seems to me that, for many native Chinese speakers, dealing with a foreigner who speaks basic or intermediate Chinese comes across as an easier task than dealing with someone who speaks well enough to almost (but not quite) be taken as a native speaker. Perhaps it has something to do with the way people like to have things (and people) neatly and simply categorized in their minds, which, added to a longstanding association between ethnicity and language, interferes with such categorizations and causes this phenomenon. I'm neither a psychologist nor a language expert, so I really have no idea. It's an interesting concept, though.